+255 717 568 861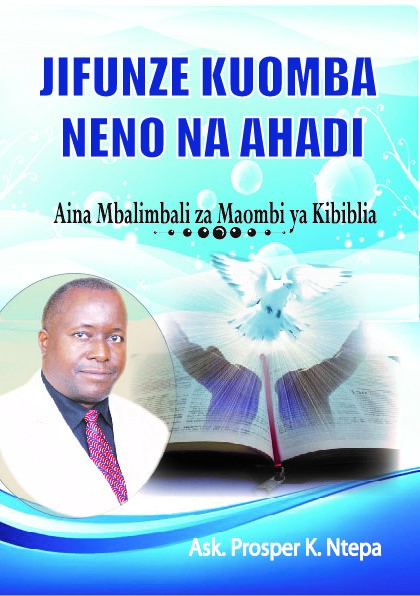 JIFUNZE KUOMBA NENO NA AHADI
Added to shop:
Apr 01, 2021
Sina mbalimbali za MAOMBI ya Kibiblia
HABARI ZA MWANDISHI
Prosper K. Ntepa ni mtume, mwalimu, mwandishi wa vitabu na Mchungaji aliyepakwa mafuta na mwenye huduma yenye mafanikio katika uponyaji na kuwafungua watu. Kusema kweli yeye ni mwandishi wa vitabu pamoja na mashairi. Alisimikwa rasmi kuwa mtume mwezi Juni 2003 na Mtume Greg Howse wa Chicago Marekani.
Ameithibitisha nguvu ya Mungu isiyo na mashaka na upako wa uponyaji kwa watu wengi ambao wamepokea majibu ya matatizo yao ya kiroho na kimwili. Akiwa sambamba na mke wake na Mchungaji mwenza, Debora Ntepa, watu wengi wameponywa wakiwemo watu zaidi ya 40 walioponywa UKIMWI. Kuna shuhuda nyingi za watu walioponywa kupitia maombi na vitabu vyao vyenye upako, wakiwemo walioponywa kisukari, UKIMWI, asthma, upofu, ulemavu, kuharibu mimba, utasa, shinikizo la damu na magonjwa mengine lukuki. Watu wengine wenye vifungo vya kipepo wamekuwa wakifunguliwa kupitia huduma yake yenye upako.

Huduma yake ya ualimu imejaa mafunuo ambayo yamebariki maisha ya watu wengi sana. Amekuwa katika mstari wa mbele katika kutenda anachokihubiri. Hivyo mafundisho yake yamejaa mguso. Hapo mwanzo alikuwa akiitwa "Ancient" kabla ya kubadilisha jina na kuitwa Prosper. Mabadiliko haya yalitokea mwezi Agosti 2004. Hii ilikuwa ni baada ya yeye kugundua nguvu ya majina. Ancient maana yake ni kitu cha kale; mzee. Prosper maana yake ni kufanikiwa na kuwa tajiri, kuendelea vizuri, kukua vizuri. Pia Prosper humaanisha kitendo cha Mungu au mbingu kusababisha kufanikiwa. Mabadiliko ya jina yalileta mpenyo mkubwa kifedha na kimali katika maisha yake. Prosper alizaliwa nchini Zambia na wazazi waliotoka Tanzania. Aliishi katika mji wa Kitwe- Zambia kwa miaka 15 na kupata elimu yake ya msingi huko, kuanzia mwaka 1971–1977. Mnamo mwezi Machi 1978, baba yake, marehemu Jackson Ntepa alimrudisha Prosper nyumbani kwao katika mkoa wa Mbeya- Tanzania, ambako aliendelea na masomo yake ya kidato cha kwanza hadi cha nne katika shule ya sekondari ya Sangu. Tarehe 22 Desemba 1979, alimpokea Yesu kuwa mwokozi na Bwana wake. Uamuzi huu ulikuwa ndiyo chimbuko la mabadiliko ya maisha yake. Mungu alianza kuongea naye juu ya mipango na makusudi ya siku za usoni. Anaamini kwamba kupata matunda mengi ya kiroho hakupo katika kuwa na wingi wa shughuli za kiroho bali katika kufuatilia na kufanya kitu sahihi katika kusudi la Mungu ambalo kwalo umewekwa wakfu. Mwaka 1982-1984 ndugu Ntepa alikuwa masomoni katika shule ya Songea Boys High School. Kufuatia kumaliza kwake kidato cha sita, alikwenda kwenye mafunzo ya jeshi la kujenga taifa kwa mujibu wa sheria, kambi ya Ruvu. Kuanzia mwaka 1986-1989, alikuwa chuo kikuu cha Dar es Salaam ambako alipata shahada yake ya sanaa katika ualimu. Kwa miaka minne na nusu alikuwa ni mwalimu wa shule ya Sekondari ya Kibasila mkoani Dar es Salaam, Tanzania. Ni katika wakati huo wa kazi yake ya ualimu na akiwa mzee wa kanisa katika Kanisa la Pentekoste la Tanzania aliposikia wito wa kumtumikia Mungu kwa muda wote. Mwezi Juni 1993, Mchungaji Prosper Ntepa aliongozwa na Mungu kufanya kazi chini ya Askofu na Dakta Mtume Bernard Jehu Nwaka wa huduma ya Living Waters Global Ministries iliyopo Kitwe, Zambia. Mnamo mwaka 1994 hadi 1995 Prosper na Debora walijiunga na chuo cha Biblia cha Kaniki kilichopo Ndola- Zambia, ambako walipata stashahada zao za Theolojia ya mafunzo ya Biblia. Huduma ya Living Waters Global Ministries ni huduma iliyo na uhusiano na huduma ya Restoration Bible Church ya hapa Tanzania. Walianzisha kanisa katika jiji la Dar es Salaam chini ya Restoration Bible Church mnamo tarehe 29 Septemba 1996, kanisa ambalo lilianza kugusa maisha ya mamia ya watu kwa njia ya mafundisho, uponyaji na kufunguliwa. Kanisa hili lilizaa makanisa mengine manne. Prosper alifanya kazi chini ya Restoration Bible Church kwa miaka 9 mpaka tarehe 20 Novemba 2005 ambapo Mungu alimpa mwelekeo mwingine. Mchungaji Ntepa amekuwa katika ndoa na Debora Ntepa tangu tarehe 15 Oktoba 1988.

Wamebarikiwa na kuwa na watoto wanne ambao ni Alice, Angela, Faraja na Shaddai. Mkewe pia ni Mchungaji na mtumishi aliyesimikwa.
Hapo mwanzo Debora alikuwa akiitwa Rhoida. Mwaka 2005 naye alibadilisha jina kwa kutii unabii aliopewa mwezi Juni 2002 na Mtume Greg Howse. Mtume Prosper na Debora wamekuwa wakihudumu pamoja katika sehemu mbalimbali za dunia. Debora ameandika vitabu sita vifuatavyo: Usikate Tamaa: Muujiza Wako Uko Njiani, Utasa Unaponyeka, Unaweza Kumsikia Mungu, Jinsi ya Kupata Kibali, Uponyaji wa Moyo Ulioumizwa, Jinsi ya Kujiandaa Kuolewa. Mnamo Februari 2004, Mungu alianza kusema na Prosper juu ya kuanzisha huduma isiyofungamana na dhehebu lolote iitwayo The Oasis of Healing Ministries (OHM). Alimwambia kiongozi wake Askofu Nwaka juu ya maono yake na Askofu Nwaka alimshauri asubiri wakati muafaka wa kuanzisha huduma yake. Mwezi Oktoba 2005, Roho Mtakatifu alisema na mtume Ntepa na kumwambia kwamba wakati wake wa kufanya kazi chini ya Askofu Nwaka unakaribia kwisha. Kwa mara nyingine akamshirikisha Askofu Nwaka habari za mwelekeo wake mpya na Askofu Nwaka alionyesha utayari wa kumwachilia. Tarehe 20 Novemba 2005, wachungaji Prosper Ntepa pamoja na Debora Ntepa waliombewa na kuachiliwa mbele ya mitume wanne (Chabbs Sibale, Stanley Mwangonde, Collins Sapalo na Israel Wandamba), wachungaji na washirika wa Restoration Bible Church Jangwani ili wasiwe tena wachungaji wa Restoration Bible Church Jangwani - Dar es Salaam. Waliamua kuacha jengo la kanisa na mali zingine zisizoondosheka na kuanzisha huduma ya The Oasis of Healing Ministries (OHM), ambayo ni huduma ya kimataifa na isiyofungamana na dhehebu lolote. Dhumuni la huduma hii sio kujenga dhehebu la kanisa fulani, bali kuzifikia roho ambazo hazijaokoka pamoja na mwili wote wa Kristo. Huduma ya OHM inawafundisha waamini kufanya kazi za Kristo kama vile kuponya wagonjwa, kutoa pepo kwa watu wenye vifungo, kuwashauri watu wenye mahitaji mbalimbali na pia jinsi ya kutenda kazi katika ishara na miujiza. Kwa nyongeza, huduma hii ni kichocheo cha kuwasaidia waamini kugundua karama na huduma zao na kuwatia moyo kujituma kufanya kazi badala ya kung'ang'ania vyeo vya kimadhehebu. Jinsi ya kuzichochea karama tisa za Roho Mtakatifu ni eneo lingine la msisitizo wa huduma ya OHM. Mungu amempa Mchungaji Ntepa mzigo wa kuanzisha vituo vya uponyaji katika mikoa na wilaya mbalimbali za Tanzania, vituo ambavyo vitakuwa vikiitwa Healing Rooms (Vyumba vya Uponyaji). Vyumba vya Uponyaji zitakuwa ni sehemu maalumu ambapo wagonjwa watapata fursa ya kufundishwa Neno la Mungu, kupokea ushauri unaofaa na kupokea uponyaji na kufunguliwa kwao kutoka kwenye vifungo vya kipepo. Waamini wenye mzigo wa huduma ya uponyaji, watafundishwa jinsi ya kuwaponya wagonjwa na kuwafungua watu wenye mahitaji mbalimbali watakaokuwa wakija katika vituo hivi. Tangu tarehe 27 Novemba 2005 Mchungaji Ntepa alianzisha ngome ya kanisa chini ya huduma ya OHM ambapo ndipo makao makuu ya muda ya huduma hii. Vile vile Mtume Prosper Ntepa ni Mkurugenzi wa huduma ya kimataifa ya Healing Rooms (Vyumba Vya Uponyaji) ambayo inakusudia kuanzisha vituo maalumu katika mikoa na wilaya mbalimbali hapa Tanzania, kwa ajili ya kuwaombea wagonjwa na watu wenye vifungo mbalimbali ili waweze kufunguliwa pia. Mwezi Juni 2006 kituo kipya cha Healing Rooms kilifunguliwa hapa Dar es Salaam.
Wagonjwa mbalimbali wanakaribishwa kuja kuombewa na kujifunza zaidi kuhusu huduma ya uponyaji na kufunguliwa (Kwa taarifa zaidi piga simu 0713 212440 au 0755 029602). Katika kanisa hili la mahali pamoja, ibada huendeshwa siku za Jumapili katika makao makuu ya huduma ilioko katika jengo ambalo liko nyuma ya Ubungo Plaza jirani na kanisa la Anglikana na shule ya msingi Ubungo National Housing. Saa 2:00–4:00 asubuhi kunakuwa na ibada ya Kiingereza (English Service) inayofuatiwa na ibada ya Kiswahili kuanzia saa 4:00- 7:30 mchana. Saa 7:00- 10:00 jioni ni muda wa ushauri kwa mtu mmoja mmoja. Kuanzia saa 10:00- 12:30 jioni kuna ibada ya Mlipuko wa Uponyaji ambapo jumbe zenye kujenga imani huhubiriwa. Alhamisi saa 10:00 hadi 12:30 jioni ni ibada ya uponyaji. Pia ofisi za OHM ziko katika eneo la kanisa. Ibada hizi hutawaliwa na udhihirisho wa nguvu ya Mungu ya uponyaji na karama za Roho Mtakatifu. Kila aliyeokoka na anayeabudu katika dhehebu lolote anaweza akawa mwanachama wa huduma ya The Oasis of Healing Ministries (OHM). Hivi sasa Mchungaji Prosper Ntepa anajihusisha sana kuandika vitabu, huduma ya kufundisha Neno la Mungu, kuwaponya wagonjwa na kuwafungua waliotekwa. Pia kila Jumapili anatoa makala za mafundisho ya Neno la Mungu katika gazeti la Habari Njema. Yupo katika mstari wa mbele akiwafundisha watu jinsi ya kuziachilia karama za Roho Mtakatifu katika maisha yao na kuwaonyesha waamini jinsi wanavyoweza kupata matokeo mazuri katika wito na huduma zao. Pia anajihusisha na kuendesha semina za uponyaji katika sehemu mbalimbali za Tanzania na duniani.
IJUE HUDUMA YA HEALING ROOMS

Mtume Prosper Ntepa ni mkurugenzi wa huduma ya kimataifa ya Healing Rooms (vyumba vya uponyaji) ambayo hujihusisha na vituo vya kutoa maombezi ya uponyaji kwa wagonjwa, huduma ya kufunguliwa kwa waliofungwa na nguvu za kipepo na kutoa ushauri kwa wenye matatizo mbalimbali. Kwa sasa huduma ya Healing Rooms inafanya kazi katika nchi zaidi ya 34 duniani zikiwemo Marekani, Uingereza, Afrika Kusini, Zambia, Ethiopia, Kenya, n.k. Kwa hapa Tanzania kuna vituo viwili Dar es Salaam na Mbeya.
Huduma hii ina lengo sio tu kufikisha kuwaponya wagonjwa bali pia kuwafundisha Wakristo wa kawaida jinsi ya kuponya wagonjwa, kuwafungua watu waliofungwa na nguvu za kipepo, kutembea katika karama za Roho Mtakatifu na kufanya ushauri kwa watu wenye matatizo mbalimbali. Mwezi Oktoba 2005 Mungu alisema na Mtume Prosper Ntepa kwamba atakwenda kuanzisha vituo vya Healing Rooms katika mikoa na wilaya mbalimbali ya hapa Tanzania.

Wagonjwa na wenye shida za kila aina wamekuwa wakiponywa na kupata msaada katika vituo hivi. Katika kituo cha hapa Dar es Salaam huduma ya maombezi hutolewa siku ya Jumatano na Jumamosi saa 8:00 alasiri hadi saa 12:00 jioni katika eneo la kanisa lililopo nyuma ya Ubungo Plaza karibu na kanisa la Anglikana. Pia yeye ni mkuu wa chuo cha The Oasis of Healing Bible College (OHBC), chuo kilichopo Dar es Salaam- Tanzania, na kinachopokea watu wa madhehebu yote. Mchungaji Ntepa ni mwandishi wa vitabu na mashairi. Kwa kweli, yeye ni mwalimu mwenye kipaji katika uandishi. Watu wengi wamekuwa wakibarikiwa kwa kusoma mafundisho yake.

Amekuwa mtaalam katika mafundisho yahusuyo uponyaji. Vitabu vyake mbalimbali vihusuvyo uponyaji wa Kiungu vimeleta uponyaji kwa mamia ya watu duniani kote wakiwemo watu wenye UKIMWI. Ameandika vitabu, vitini na makala mbalimbali, makala zingine bado hazijachapishwa. Mpaka sasa amekwishaandika zaidi ya mashairi 100 ya kiingereza yenye uvuvio yahusuyo masomo mbalimbali.

Kipawa chake cha uandishi hakikuja kwa kubahatisha bali, Mungu alisema naye kwa njia ya unabii ya kwamba atafanyika baraka kwa uandishi, wakati huo alikuwa katika chuo kikuu cha Dar es Salaam mnamo mwaka 1987. Ndani ya mwaka huohuo, Sydney Raider, mwinjilisti kutoka New Zealand aliuthibitisha unabii huo kwa njia ya neno la hekima alilompa Ntepa kwa habari ya kufanyika kwake baraka kwa njia ya uandishi.

TUNAHITAJI MSAADA WAKO WA KIFEDHA Biblia inasema, "Mwanafunzi naamshirikishe mkufunzi wake katika mema yote." Huduma yetu ya uponyaji kwa njia ya vitabu, kanda za mafundisho, tracts, makala katika gazeti la kikristo na kadhalika imewabariki wengi wetu. Pia nanyi mwaweza kufanyika baraka kwetu kifedha na kivitu ili tuweze kutimiza maono tuliyopewa na Mungu. Ninaamini kwamba huduma yetu ni udongo mzuri kwa ajili ya kupanda mbegu na kuvuna. Tunahitaji mchango wako kwa ajili ya kuchapishia vitabu ambavyo vitawabariki watu wengi zaidi. Hii ina maana unaweza kuwa mshirika mwenzetu katika kueneza Neno la kweli na imani kwa wale wanaohitaji.
Usisite kuitii sauti ya Roho Mtakatifu inayokusukuma kupanda mbegu. Katika Wafilipi 4:15-16, Biblia inatukumbusha juu ya kushirikiana na watumishi wa Mungu kwa njia ya kutoa na kupokea: "Nanyi pia, ninyi wenyewe mnajua, enyi Wafilipi, ya kuwa katika mwanzo wa Injili, nilipotoka Makedonia, hakuna kanisa lingine lililoshirikiana nami katika habari hii ya kutoa na kupokea, ila ninyi peke yenu. 16 Kwa kuwa hata huko Thesalonike mliniletea msaada kwa mahitaji yangu, wala si mara moja." Iwe kubwa au ndogo, zawadi yako italeta tofauti kubwa na kututia moyo. Leo unaweza kuwa mshirika wetu wa kifedha. Unaweza kutuma mchango wako wa kifedha kupitia namba ya akaunti ifuatayo:
Benki: CRDB, TAWI LA LUMUMBA Jina la Akaunti: PROSPER NA DEBORAH NTEPA, Akaunti Namba: 0J2008718500. Unakaribishwa kutuma ofisini kwetu mambo unayotaka kuombewa. Kama unataka vitabu, kanda za mafundisho, kufunguliwa vifungo vya pepo, ushauri, kutushirikisha shuhuda zako kutokana na kubarikiwa na kitabu au kanda za mwandishi, tafadhali tuandikie kwa kutumia anuani ifuatayo: Askofu: PROSPER K. NTEPA, S.L.P 72635, DAR ES SALAAM, TANZANIA. Simu ya mkononi namba: +255713212440 au +255755029602.
Barua pepe: prosperkasesela@gmail.com