+255 717 568 861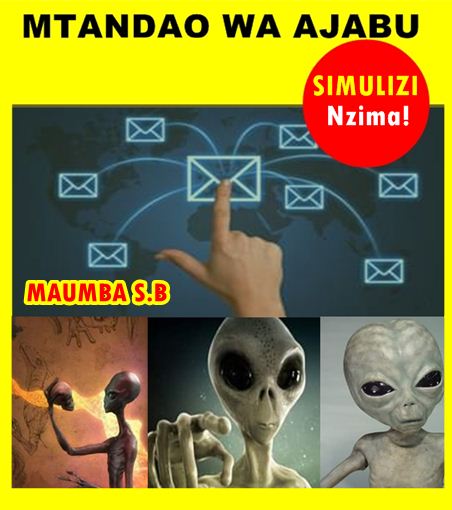 Mtandao Wa Ajabu
Added to shop:
Jun 07, 2021
Hiki ni kitabu cha Hadithi na simulizi. Ni simulizi inayohusiana na mtandao wa ajabu mno unaohusisha viumbe wenye mchanganyiko wa nasaba. Yani, nusu binadamu na nusu ni Alien, waitwao HUMANIEN. Viumbe hivi vina historia ndefu sana hadi kuwepo kwake duniani. Lakini hatari kubwa zaidi inawakabili na kuikabili dunia kwa ujumla baada ya Aliens waovu kutoka mpakani mwa Mars kuja kuiteketeza dunia na viumbe hivyo. Kwahiyo, hadithi kwa ujumla inaelezea mikasa kibao ambayo mabingwa wa ku-hack mitandao wanavyohangaishwa na mtandao huo wa ajabu. Nao pia wanahusishwa kwenye mission ya kuikomboa Dunia, wakishirikiana na Humanien Creatures. Je, watafanikiwa?. Ili kufahamu hili, tafadhali jipatie nakala yako mapema sana.
Ilikuwa ni majira ya saa sita za usiku. Nikiwa ndani ya chumba changu, nilikunja nne vizuri huku nikining'inia katika kiti kirefu cha ofisini chenye matairi sita chini. Macho kodo! Nikiwa nimekodolea kompyuta mpakato aina ya Dell Latitude D 630.
Kwenye skrini ya Laptop yangu, ilisomeka vyema profile picha yangu.
*D*a*n*i*e*l H*a*c*k*e*r
Miaka 19
Jiji: Dar es salaam.
Japo niliketi kwenye kiti cha kuzunguka. Nilikosa usingizi na sikuwa na amani kabisa huku hamu kubwa ya kutaka kumfahamu yule aliyekuwa amenitumia message kwa njia ya e-mail hapo asubuhi ya saa 4 kasorobo, ikinikaa vizuri kwenye koo.
Ndiyo!, Leo asubuhi saa nne, nilipokea meseji yenye kuogopesha sana huku ikiandikwa kutoka kwa mtu asiyejulikana.
Basi niliendelea kuvuta subra kwenye kiti hicho.
Kwa mazingira ya nje yalikuwa shwari kabisa huku mvua ya rasharasha ikiendelea kunyesha. Upepo kiasi uliendelea kuvuma huku ukiufanya usiku huo kuwa tulivu mno. Hakukuwa na kelele zozote isipokuwa zile za mvua pindi ilipogonga kwenye paa la nyumba. Na kidogo mti uliokuwa dirishani kwangu pale ulipokuwa unavuma kutokana na kijiupepo mwendopole kilichokuwa kikiendelea.
Kwa mujibu wa meseji niliyoipokea saa 4 kasorobo asubuhi ilisomeka.
>>>from Unknown<<<<<
"Usiulize mimi ni nani!.Ila wewe ni Daniel Hacker, miaka 19, unamiliki website ya MtumutuOnline?. Tunafahamu mengi sana kukuhusu wewe. Mipango yako na siri zako zote zipo hatarini"
"Usijaribu kufanya ujanja. Saa sita usiku hakikisha unakuwa online!"
"Ni lazima uwe online bila ya kukosa. Lasivyo!….."
>>>>kutoka kwa Asiyejulikana<<<<<
Ilinibidi kuwa online hadi muda huo ambapo mbu wachache waliendelea kuniunga mkono kukesha hapo mbele ya laptop yangu. Wote tukisubiria ujio wa ujumbe kutoka kusikojulikana.
Nilipotaka kusinzia tu, Ghafla ujumbe mfupi ulitumwa ndani ya simu yangu bila ya kuonyesha namba ya mtu anayetuma.
>>>>from uknown>>>>
"Your password please!?…."
>>>>from uknown>>>>
get your copy for the full story!!!!