+255 717 568 861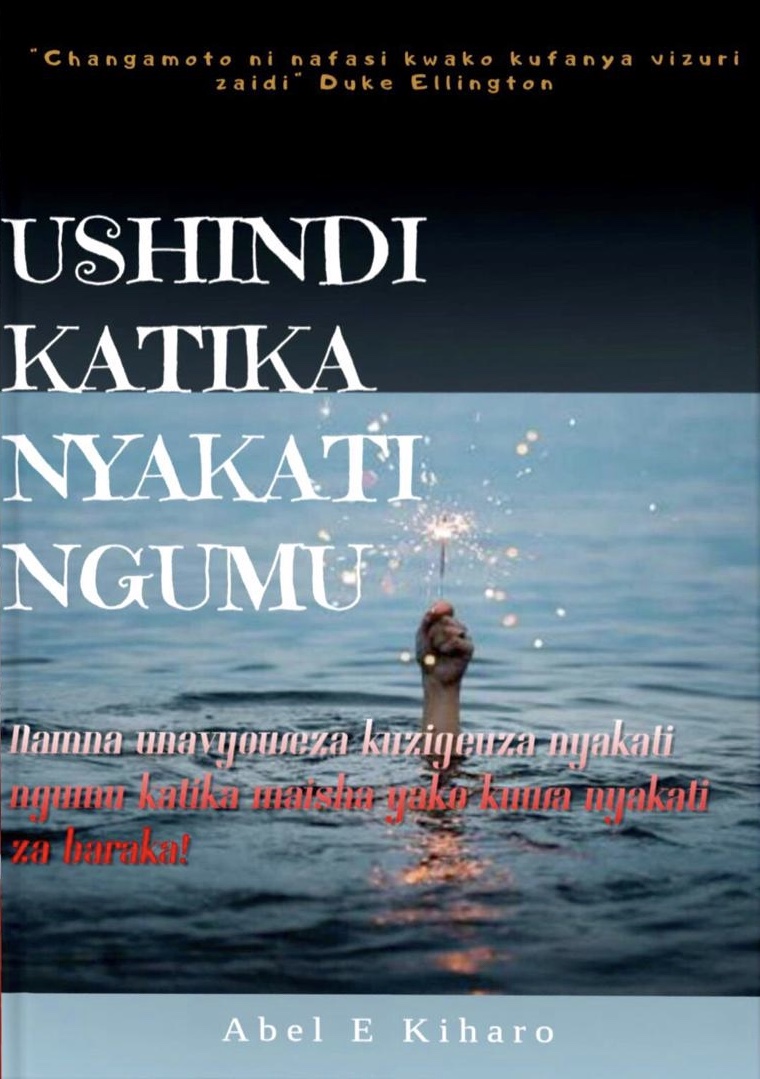 Ushindi Katika Nyakati Ngumu
Added to shop:
May 27, 2020
UKWELI KUHUSU HALI NGUMU KATIKA MAISHA, SIRI YA USHINDI, NA JINSI YA KUKABILIANA NA UGUMU KATIKA ENEO LOLOTE LA MAISHA YAKO.
KUHUSU KITABU
 "Ushindi Katika Nyakati Ngumu" ni kitabu ambacho kitakusaidia jinsi  unavyoweza  kukabiliana na hali yoyote ngumu katika maisha yako, namna ya kuiona nuru pale ambapo kila mmoja anapoliona giza na jinsi ya kukitumia kinywa chako katika kuuandaa ushindi dhindi ya changamoto.
Hakuna ambaye huwa hapitii nyakati ngumu katika maisha yake, kila mmoja kwa nafasi yake na kwa wakati wake huwa anapita katika kipindi  fulani cha ugumu katika maisha yake. Namna unavyoweza kukabiliana na kipindi hicho, ndiyo itakayo amua ama upande zaidi katika maisha yako au ushuke zaidi. Waliofanikiwa katika maisha huwa hawana mbinu za kuyakimbia yale magumu yanayokuja upande wao bali wanazo mbinu za kukabiliana na magumu hayo.
Kitabu hiki ni jibu kwa  swali lile linalo uliza "Nifanye nini ili niweze kushinda katika kipindi hiki kigumu ninachokipitia?" Kitabu hiki kimeandikwa kwa lengo la kuwasaidia watu namna ya kuweza kuzitumia nyakati ngumu wanazozipitia kama daraja la kuwapandisha badala ya kuwashusha.
KUHUSU MWANDISHI
 Abel E Kiharo (Kaka Abel) ni kijana aliyeokoka, mtoto wa tisa katika ndoa ya Elias Kiharo na Sarafina Balizigiye. Kwasasa Abel ni mwanafunzi katika chuo cha Kabanga College of Health And Allied Sciences akiwa anasomea kozi ya uafisa tabibu katika ngazi ya stashahada.
Abel ni mwandishi, mkufunzi wa vijana (Youth trainer) na mwalimu wa Neno la Mungu mwenye kiu ya kuwaona watu wakiuishi upekee wa maisha yao. Amekuwa akiandika kwa muda mrefu makala mbalimbali na kuzisambaza kwa njia ya mitandao ya kijamii, ambazo zimewasaidia watu wengi mpaka sasa katika kuuishi upekee wa maisha yao.
Pamoja na kuwa mwandishi, Abel ni mwanafunzi wa kudumu katika mahusiano, uongozi, afya na ujasiriamali. Anaamini siri ya mafanikio ya kweli katika maisha ni kuugundua, kuufurahia na kuuishi upekee wa maisha yako.