+255 717 568 861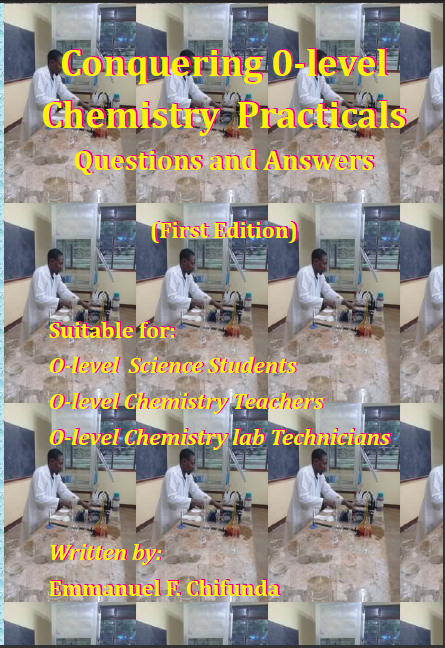 CONQUERING O-LEVEL CHEMISTRY PRACTICALS Questions And Answers
Added to shop:
Sep 28, 2022
Conquering O-level Chemistry Practicals has been designed to assist the O-level students, O-level chemistry teachers and O-level chemistry lab technicians. This book has come at a time when there is a great need for knowledge on chemistry practical questions among O-level students. It consists of a wide range of technical chemistry practical questions and answers as well as overall scale argument, tips on chemistry practicals, Conceptual Summary and Definitions. This book is resourceful and consists of various techniques for students, chemistry teachers and lab technicians.
PREFACE
This book saves the purpose of providing relevant materials in O-level Chemistry Practicals in Tanzania. The edition provides questions in O-level Chemistry Actual Practical (Chemistry 2); covering topics on volumetric analysis, rate of chemical reaction and qualitative analysis. The content is systematic by actual practical setup and contains relevant experimental results and solved problems as they appeared on National Examinations Council of Tanzania (NECTA). Though it not possible to predict national examination practical setup and questions, but the author is confident of the materials provided by this book to give the student an insight of doing well in his/her chemistry practical examinations. This is not meant to be a primary resource for chemistry practical examinations, but rather it intended to help and guide students and teachers to get relevant questions in various topics for study and discussion. This book suits for all O-level science students, chemistry teachers and laboratory technicians.
The book expects to provide basic knowledge to the students who are preparing for the national examinations. The book will help them to be successful in gaining competence and confidence in their final national examinations by using it in the class and for the private studies. Students are encouraged to read this book before they are taught in the class/chemistry laboratories to gain prior information on the matter. This will help the teacher to spend classroom time in explaining difficult material and demonstrating experiments, rather than giving definitions of the concepts which are already given by the book.