+255 717 568 861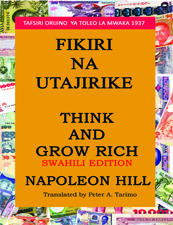 Best Seller
THINK & GROW RICH-SWAHILI- EDITION
Added to shop:
Jun 22, 2021
FIKIRI NA UTAJIRIKE, TAFSIRI KWA KISWAHILI YA THINK AND GROW RICH TOLEO ORIJINO LA MWAKA 1937
Fikiri na Utajirike (Think and Grow Rich) ndiyo Baba wa vitabu vingine vyote vya hamasa na mafanikio Duniani. Ndio kitabu cha kwanza kuelezea kiini cha mafanikio na utajiri wa watu ni nini kwa namna ambayo watu wengine wanaweza wakaiga na wao kufanikiwa. 
Kwa takriban muda wa miaka 20 Napoleon Hill alifanya utafiti kwa kuwahoji watu matajiri na waliokuwa na mafanikio makubwa kipindi chake wapatao 500. Miongoni mwao alikuwemo Andrew Carnegie, Henry Ford, Charles Schwab, King Gillete, Alexander Graham Bell na wengineo.
Kitabu hiki kimethibitisha pasi na shaka kuwa mtu yeyote anaweza akafanikiwa maishani bila kujali rangi yake, kabila, jinsia, dini, umri, elimu, hali ya kifedha, au kilema kingine chochote alichonacho.
"Binadamu anaweza kufanya au kuwa chochote kile atakacho, ilimradi tu kitu hicho anaweza kukifikiria akilini".
Mafanikio Napoleon amemaanisha ni kitu chochote kile unachokitaka maishani na wala siyo lazima iwe ni fedha tu peke yake.
Kwa mara ya kwanza kabisa Think & Grow Rich kimetafsiriwa katika lugha adhimu ya Kiswahili na mtu yeyote yule anaweza kujifunza Siri za mafanikio kupitia kanuni 13 zilizogunduliwa na Napoleon Hill katika mahojiano yake na watu hao mashuhuri 500. Kitabu hiki kwa takriban miaka zaidi ya 80 hakijapoteza maana wala kuchuja maudhui yake yaliyokusudiwa na mwandishi.
Ni kwa njia ya kukisoma tu ndipo mtu anaweza akagundua siri ni kwanini kitabu hiki kimeweza muda wote kuendelea kubakia kuwa bora duniani miongoni mwa vitabu vyote vingine vya fedha na mafanikio ya mtu binafsi.