+255 717 568 861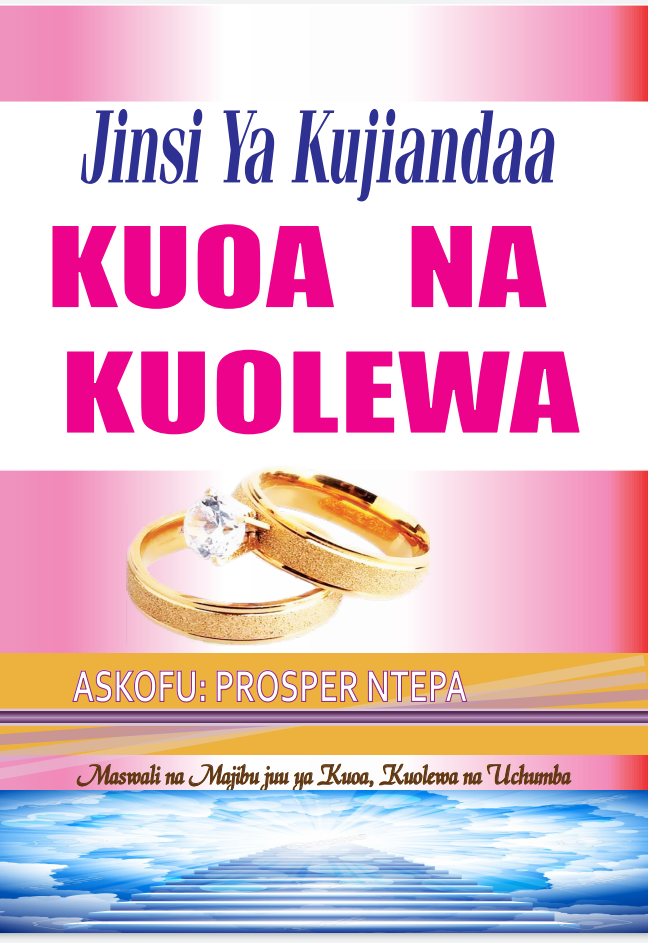 JINSI Ya KUJIANDAA KUOA Na KUOLEWA
Added to shop:
May 10, 2021
Maswali na Majibu juu ya kuoa na kuolewa
Maandiko yaliyotumika kwenye kitabu hiki yamechukuliwa kutoka
kwenye Biblia ya Union Version ambayo juu ya jalada lake
inasomeka "Maandiko Matakatifu." Biblia hii imechapishwa kwa
ushirikiano na Bible Society of Tanzania, P.O Box 175, Dodoma,
Tanzania na Bible Society of Kenya, P.O.Box 72983, Nairobi,
Kenya.
© Bible Society of Tanzania, 1994.
© Bible Society of Kenya, 1994.
Kimepigwa chapa na: PROSPER PRINTING COMPANY
Hati miliki© First printing Januari 2016
Askofu Prosper K. Ntepa,
S.L.P. 72635, DAR ES SALAAM,
TANZANIA, AFRIKA MASHARIKI.
Simu: + 255713 212440, +255783212440, +255767212440 au
+255755 029602
Barua Pepe:prosperkasesela@gmail.com
Tovuti (website): www.oasisofhealingministries.blogspot.com
Hapo awali, Prosper alikuwa akiitwa Ancient kabla ya kubadilisha jina lake mnamo Agosti 2004.
Hatimiliki © Oktoba 2016 na Prosper K. Ntepa, toleo la kwanza
lilikuwa Agosti 2012
Baadhi ya mada
1. Mambo 20 ya Muhimu Katika Kumpata mwenzio sahihi
2. Sababu 8 zinazowafanya Wanaume kuchelewa kuoa ama wasioe kabisa
3. Vipimo 7 vya Muhimu Katika kumjua mwezi wa Maisha
4. Aina za MAOMBI za Kuomba KWA dada aliyechelewa Kuolewa