+255 717 568 861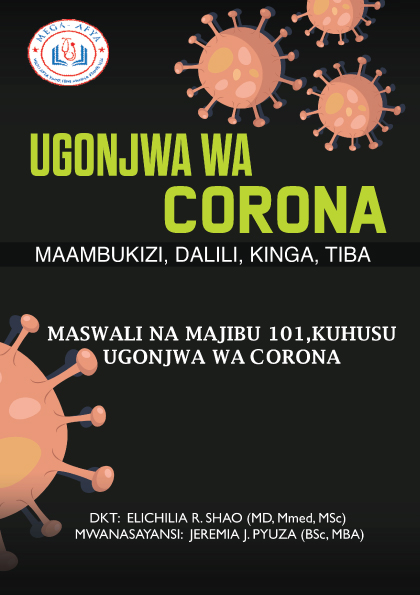 UGONJWA WA CORONA
Added to shop:
Mar 26, 2020
UGONJWA WA KORONA MAAMBUKIZI, DALILI, KINGA, TIBA MASWALI NA MAJIBU 101, KUHUSU UGONJWA WA KORONA
KUHUSU KITABU
Duniani kote, vilio, simanzi, wasiwasi, kukosa uhuru wa kutembea na utamaduni mpya wa kutokushikana mikono au kukumbatiana ndio habari mpya. Wakati huo huo, sintofahamu iliyoambatana na mtafaruku wa kutojua hatima ya uhai imetanda. Kirusi kipya kimeshika hatamu na dunia imepigwa na butwaa. Je ni nini cha kufanya? huu sio wakati wa kumlaumu yeyote, wala kuogopa.Huu ni wakati wa  kuelimishana na kushikamana huku tukitumia kila mbinu kujikinga na kuendeleza vita dhidi ya  kirusi cha Korona. Umoja wetu ndio ukombozi wetu, taarifa sahihi ni nguvu.
Kitabu cha Ujue ugonjwa wa CORONA ni mkombozi wa watanzania juu ya janga hili kubwa. Kitabu kimeelezea kwa kina juu ya Kirusi cha CORONAkinacholeta ugonjwa wa (COVID-19). Kitabu kimeelezea namna ya kujifunza kutoka kwenye historia ya magonjwa ya mlipuko ya siku za nyuma. Kimeelezea kwa kina asili ya kirusi cha Korona, Maambukizi, Vipimo, Matibabu na namna bora ya kujikinga. Kitabu hiki kimesheheni maswali na majibu 101 ya msingi. Maswali yaliyoulizwa kutoka zaidi ya nchi 185 juu ya mlipuko wa Korona. Ni matumaini yetu kuwa kitabu hiki kitaleta matumaini mapya na kuwapa watu wote mbinu za kuwa salama tena. Mungu Ibariki Tanzania, Mungu ibariki Afrika, Mungu ibariki Dunia.
WASIFU WA WAANDISHI:
Kitabu hiki kimeandikwa kwa ushirikiano wa waandishi wawili wazoefu katika taaluma ya magonjwa ya binadamu ambao ni Dkt. Elichilia R. Shao na Mwanasayansi wa maabara Jeremia J. Pyuza.
 Elichilia R. Shao ni daktari mzoefu aliyebobea kwenye masomo ya Mikrobiolojia, Immunolojia na Biolojia Masi. Pia ana shahada nyingine ya uzamili ya magonjwa ya ndani na anafanya kazi katika hospitali ya rufaa na mafunzo ya Kilimanjaro Christian Medical Centre (KCMC) nchini Tanzania. Pia amepata mafunzo shirikishi (fellowship) katika chuo kikuu cha Afya ya jamii Harvard kilichopo Boston, MA Marekani. Amefanya stashahada ya magonjwa ya tropiki katika chuo kikuu cha magonjwa ya tropiki cha London nchini Uingereza. Dr. Elichilia R. Shao ni mhadhiri katika Chuo Kikuu Kishiriki cha Tiba cha Kilimanjaro na pia mwandishi wa vitabu. Ameandika vitabu vingine vinne, HIV-STIGMA, UJUE UGONJWA WA KISUKARI, DREAM MAKE IT HAPPEN LIVE IT NOW NA HOMA YA INI.
Jeremia J. Pyuza ni mwanasayansi wa maabara, na mtaalamu katika masuala ya uongozi na biashara. Ni mwandishi mbobezi wa vitabu vya fani mbalimbali, vikiwemo vya  kada ya afya na kada nyingine. Miongoni mwa vitabu alivyoandika ni pamoja na CLIMBING TO THE PEAK OF LEARNING SUCCESS, DESIGN THINKING ADAPTABILITY AND RESILIENCE, LABORATORY MEDICINE  NA HOMA YA INI .Jeremia J Pyuza anatoa makala mbalimbali za afya katika vituo vya redio, magazeti na katika mtandao kwa jina la MEGA AFYA. Ndoto yake ni kuona watanzania wakiwa na elimu ya kutosha ya afya itakayowasaidia kuwa na afya njema kwa maendeleo ya nchi yetu kuelekea uchumi wa kati.