+255 717 568 861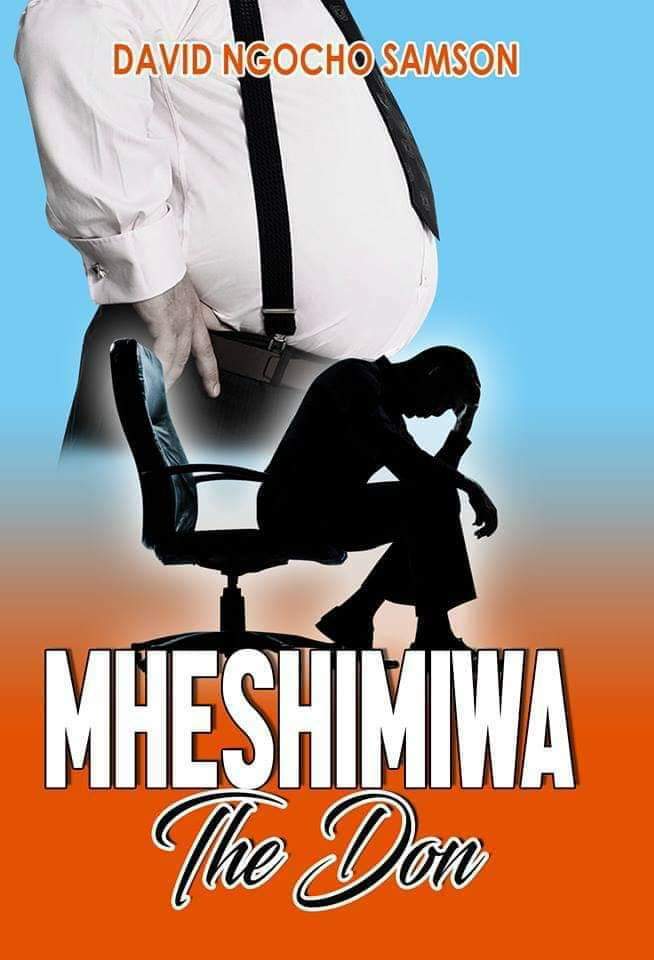 Mheshimiwa The Don
Added to shop:
Jun 28, 2020
Title: Mheshimiwa - The Don Mtunzi: David Ngocho Samson MUHTASARI Mabruki, alimaarufu The Don ni mtu mwenye jina Kubwa sana nchini. Kwanza kwa sababu ni miongoni mwa mawaziri wachapakazi na anayekubalika sana kwa wananchi wa rika zote lakini pia ni mtu wa watu, anayetoa misaada mingi kwa raia wake jimboni na kote nchini. Ni kiongozi anayepewa nafasi Kubwa ya kushika madaraka ya juu zaidi nchini. Pamoja na hayo, mheshimiwa Mabruki si mtu wa kawaida kwa Kila hali. Akihusishwa na ushirikina unaosababisha mauaji ya kutisha ya albino, utafutaji wa viungo vya binadamu na mauaji ya watu maarufu. Kisasi cha mapenzi kinaibua maozo yote ya mheshimiwa Mabruki ~ The Don. Machera ni mpelelezi makini anayeibua uozo huo kwa kushirikiana na mwanaharakati wa haki za binadamu Maisha Nchagwa. Ugunduzi huo unakuwa mwiba hatari kwa vijana Hao machachari na kupelekea kutekwa kwa mmoja wao. Mabruki analo kundi Kubwa lenye mbinu na hila za Kila namna. Vijana Hao wanaishia mikononi mwa kundi hilo hatari. Je watafanikiwa kuchomoka? Ni kisa cha mapenzi kinachoibua mazito yanayotikisa serikali. David Ngocho Samson
Geof alijaribu kutafuta usingizi bila mafanikio. Aliamka na kuketi kitandani. Aliwaza jinsi mali yake yote aliyotafuta kwa jasho sasa ilikuwa inatafunwa na watu wengine tu kirahisi kabisa bila jitihada zozote zaidi ya kutumia udhaifu wake tu, tayari kiwanja chake kimeenda, akiba yake benki na yenyewe imetokomea mifukoni mwa afande mwenye njaa.

Tayari alianza kuwaza kuuza nyumba yake ya Kimara. Afanyeje hali amefilisika!. Yote hayo kwa sababu gani? Mwanamke malaya tu! Kwa sababu hakuwa tayari kuonekana kashindwa! Kwa sababu alidhani anaweza kumiliki binadamu! Laiti angekumbuka ule msemo wa waswahili wa akunyimae kunde, sasa alikuwa kishachelewa.
Watu husema majuto ni mjukuu na sasa aliona maana ya methali hiyo. Alijinyanyua na kuelekea dirishani na kulifunua pazia akaangalia nje. Alitafuta majibu, majibu ya nini? Nini afanye ajiepushe na ukata uliokuwa unamkabili sasa.
Alipata jibu alilokuwa anatafuta. Lilikuwa wapi muda wote? Tabasamu la kifedhuli likaenea usoni mwake. Tabasamu la hila!
Kesho ataenda kazini huko atachukua fedha nyingi awezavyo. Ndiyo, kwani yeye ni nani?
Mhasibu wa TANESCO.
Atahakikisha anachota kiasi cha kutosha kukimbia na kutokomea mbali. Mbali na mkono wa sheria. Nchi za mabepari ambako kuwa tajiri ni sifa muhimu. Haijalishi inavyopatikana, cha muhimu kodi zao wazipate. Huko ataishi kwa starehe tele. Hatakuwa na haja ya mapenzi ya mwanamke, wanawake wenye kila mbinu za mapenzi watajileta wenyewe. Hatimaye atamsahau Asha.
Alirejea kitandani na usingizi ukamvaa. Ndoto za maisha ya kufuru zikimtia kiburi cha kuthubutu, kuhamisha na kutokomea na fedha za umma huko ughaibuni.
***
Chumba kilikuwa na ubaridi wa wastani, kiyoyozi kilifanya kazi vizuri na kumpa burudani mwanana. Samani zake kutoka magharibi zilipendezesha ofisi yake si haba. Meza ilisheheni vitabu na kalamu, kulikuwa na komputa ya kisasa na kwa pembeni kulikuwa na ashtray ya kukung'utia jivu la sigara zake za gharama! Wenyewe wakiziita cigars!
Mkononi The Don alikuwa ameshika cigar lake mkononi, Arturo Fuentes Opus X', cigar ya tatu kwa gharama duniani, watumiaji wakiisifia kwa ladha ya kipekee kokote duniani. Mabruki ni miongoni mwa matajiri wachache duniani waliomudu kuvuta cigar hizo, ikimweka Mabruki katika daraja la juu la ukwasi. Kwa bongo, zilikuja kwa oda maalum, oda ya mheshimiwa Mabruki.
Mlango uligongwa na ndani akaingia Estivan, alikuwa amevaa fulana ya kahawia iliyomkaa vema na suruali aina ya jinzi la bluu.
Alimwamkia kwa heshima Mabruki (the don) na kuitikiwa kwa sauti nzito ya mtetemo. The Don akavuta mtemba wake na kuachia moshi mzito ukielea hewani huku akiukodolea macho kwa husuda. Ilikuwa inampa ufahari kufikiria tu tamu ya cigar yake aliyogharamia kwa karibia laki nane za kibongo, cigar moja tu!
Mezani Estivan aliona gazeti la siku hiyo lenye kichwa cha habari
MKURUGENZI WA HAKI ZA BINADAMU KUHUSIKA NA MAUAJI YA KUTISHA?
Alivutiwa na habari ile.
"Kijana inaonekana habari imekusisimua sana". The Don alitamka. Tabasamu la zirael likisomeka usoni pake, tabasamu la ushindi likichanua na kuruhusu moshi wa cigar yake kupenya kwenye pambizo za midomo yake mipana na kutoka nje, huku akijizungusha kwenye kiti chake usawa wa nusu duara, shati jeupe likiwa limechomekwa kwenye suruali yake nyeusi yenye suspenders zilizopishana vema kwenye tumbo lake kubwa lisiloishiwa hamu ya kupokea mavyakula na mavinywaji ya kila aina. Ungedhani mheshimiwa Mabruki haendi chooni kwa jinsi likitambi lake lilivyokuwa Kubwa!
"Kweli mzee, sasa tumebaki na Machera tu"
Alilirudisha gazeti mezani.
"Huyo mtu ni lazima auawe la sivyo tutaumbuka mzee."
Estivani alizungumza akitoa pendekezo. Hamu ya kumwaga damu ikimkereketa moyoni. Kwa mtu wa kaliba yake, muuaji mashuhuri, kumwaga damu ilikuwa jambo la kusisimua. Sisimko la raha ambayo wachawi na wauaji wazoefu wangemudu kulielezea kinagaubaga na si mwandishi wa mkasa huu.
The Don alitikisa kichwa kama ishara ya kuafiki alichosema Estivan.
Kama aliyezinduka usingizini Estivan alitamka,
"Mzee kuhusu Chale, nadhani tunahitaji kufanya kitu kabla hatujachelewa"
"Unashauri tufanye nini?" The Don aliunguruma, mkono wake ukiparaza kipara chake kilichoanza kuenea kwa kasi kwenye kichwa chake cha mviringo na utosi uliobonyea kiasi cha konzi moja.
"Inabidi tumuokoe au tumuue kabla hajafikia hatua ya kutoa siri juu ya kuhusika kwetu" Mabruki akaguna akitikisa kichwa kama anayetafakari jambo, halafu akatamka;
"Wazo zuri" na kuongeza
"Fanya hivyo haraka."
Estivani akainama kuonesha utii halafu akageuka na kutoka ofisini akiurudishia mlango taratibu.
The Don akavuta pafu nyingine ndefu na kuachia moshi uliokijaza Chumba cha ofisi yake na kukung'uta pisi la cigar yake kwenye ashtray akijizungusha kama pia kwenye kiti chake, huku akisikilizia stimu ya cigar lake!