+255 717 568 861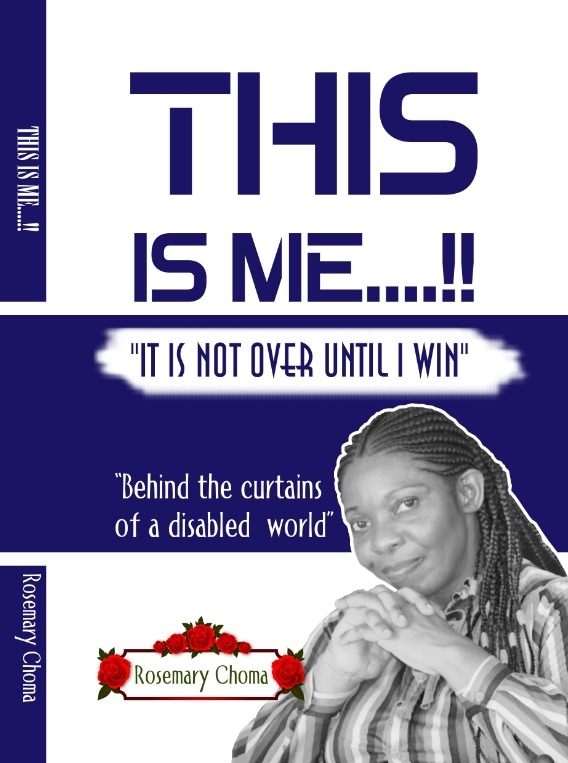 THIS IS ME
Added to shop:
Sep 10, 2021
THIS IS ME is a book that encourages you to continue with the struggles no matter the circumstances you face. You might be broke or broken; stigmatized or disabled but life must go on.
The book tells a real life story of a Strong African Disabled Lady who has gone through fire and she stills holds on to her dreams.

As humans, we are naturally selfish. As physically fit humans, we forget about the disabled world. Meeting Rosemary has been a wakeup call for me to know what it feels to be physically disabled. I have learnt to put away pride because I can walk and run and jump. I have learnt to think of someone who has been seated in a wheel chair for over 20 years. This book has taught me to give a chance to a disabled person because they can still use their brains to think and create solutions, so said Rodrick Nabe of the Road to Success Iniatives in his foreword remarks on this book.
THIS IS ME is a book that can confidently recommend to everyone; not only the disabled individuals. Rosemary has used her story and challenges as a sacrifice to help other disabled persons. She is ready to lift up others despite her disability. She has gone through many situations of stigmatization but that does not stop her from forgiving. I have learnt a lot along the way. As you read this book, may it open your eyes; may it open your heart and unleash the highest levels of empathy for the disabled.
Reading this book will help you understand the truth behind the curtains of the disabled world especially in Tanzania and Africa. It will help you get rid of stigmatization towards people with special needs; disability is not inability.  Reading this book will make you understand that most disabled people do not want to be pitied; they just want to be loved and given the opportunities available.
This book has a lot to
learn especially on issues of economic and social humanitarian
and
is indeed worth
to be
read by every persons
 with much emphasis to 
parents
 and 
the guardians,
 the
law makers
,
employers
and
spiritual guiders
because it does not just
point out challenges
but as well
provide
some
solutions to each challenge sought.   
Go get your own copy now by clicking on the 'buy' button to support the initiatives of addressing the efforts of giving back to the community through solving the issues of dignifying the lives of the disabled.
THIS IS ME is the ©First edition printed in the United Republic of Tanzania in December 2020 with ISBN: 978-9976-88-652-8.