+255 717 568 861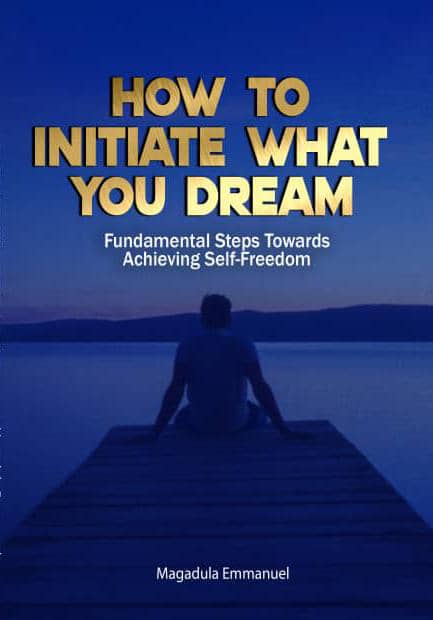 HOW TO INITIATE WHAT YOU DREAM
Added to shop:
Feb 12, 2022
This book guides every dreamer, every person who sees limitations in achieving his dream, the solutions are found within this book.
Having a dream is not enough, a fruitful dream must be initiated. Most of the people have dreams which absolutely remains dreams as the word itself.
They dream but they don't initiate what they dream, or even when they start they don't achieve what they aimed at, The greatest limitation is that self, the self which procrastinates them to catch up, the self which procrastinates them to set up, the self which procrastinates them to show up, this self makes them lack freedom of self itself.
Or when they start on the idea, they end up being starters or getting poor results, which, Myles Munroe termed it being professional starters.
The dreamer must meet the criteria for the dream to be achieved, must have full information on what he is aiming at, no any dream will be achieved if the informations about the dream itself are predictable, be sure of what you want to do, analyse the existing information about the dream, this will range from virtual training to face to face training, reading available books and other documents.
having a good goal is the intention of every dreamer, however, if the good goal lies in the bad plan, the dream won't be achieved and will only remain being a dream, there are definite and realistic plans which a dreamer must follow when formulating a goal in a course to initiate what he dreams, we have been told to set up SMART goals, well, but this isn't enough, additional skills should be read.
No any dream will be initiated without showing up, the dreamer must do, do and do again, I repeat you must do if you are a true dreamer, dreaming without doing is really dreaming, showing up is what you must practice, if you want to be, you must do. Showing up is the secret of every successor, showing up must come after setting up SMART goals in a course of initiating what you dream, start by working on what you are interested (a dream), this is showing up.
Showing up is the peak of initiating a dream, only few reach at this stage. It is obviously known that, even though it is difficult climbing the mountain but accidentally falling even to death is just easy, that is why you need a lot of principles to keep you at this climax (showing up), the ability to do. At the same time you need a number of principles that will increase your efficiency every time.
To stay in a dream and increasing efficiency results from the ability to relate positively with most of the people which is guided with six mini- principles, there is a secret in people who can keep relationships because missions are relationships.
To stay in a dream and increasing efficiency needs having that someone who treats you like no one, what is taught is having people around you who understands how it feels in a course of maintaining your dream, no one man army has ever existed since then, there is no such kind of stupidity as having an ideal one man army.
To stay in a dream and increasing efficiency needs to know how to cooperate with friends beside for the betterment in your dream, this depends on the ability to be the C.E.O of the corporate office, a number of skills must be live, a true dreamer must learn himself having a team, and he must train himself to stand as a leader. If you have ever heard no one is perfect, this is true but there is perfectionistic in a group of dreamers. Learn how to use people for your dream to come positive.
Above all, this doctrines are powered by self moderation, which at every moment must be owned by the dreamer, or the successor. There is no way you can reduce weaknesses unless by having self control, you want to be a successor learn how to do things in Moderation, this is the habit of every dreamer who sees himself as a successor, it limits every kind of awkwardness, you can be a successor in a number of dreamers.
Conceive the dream, believe the dream, achieve the dream, this won't be brought by anything else but by having the fundamental Steps Towards Achieving Self-Freedom portrayed inside this book which tells on How to Initiate What You Dream.