+255 717 568 861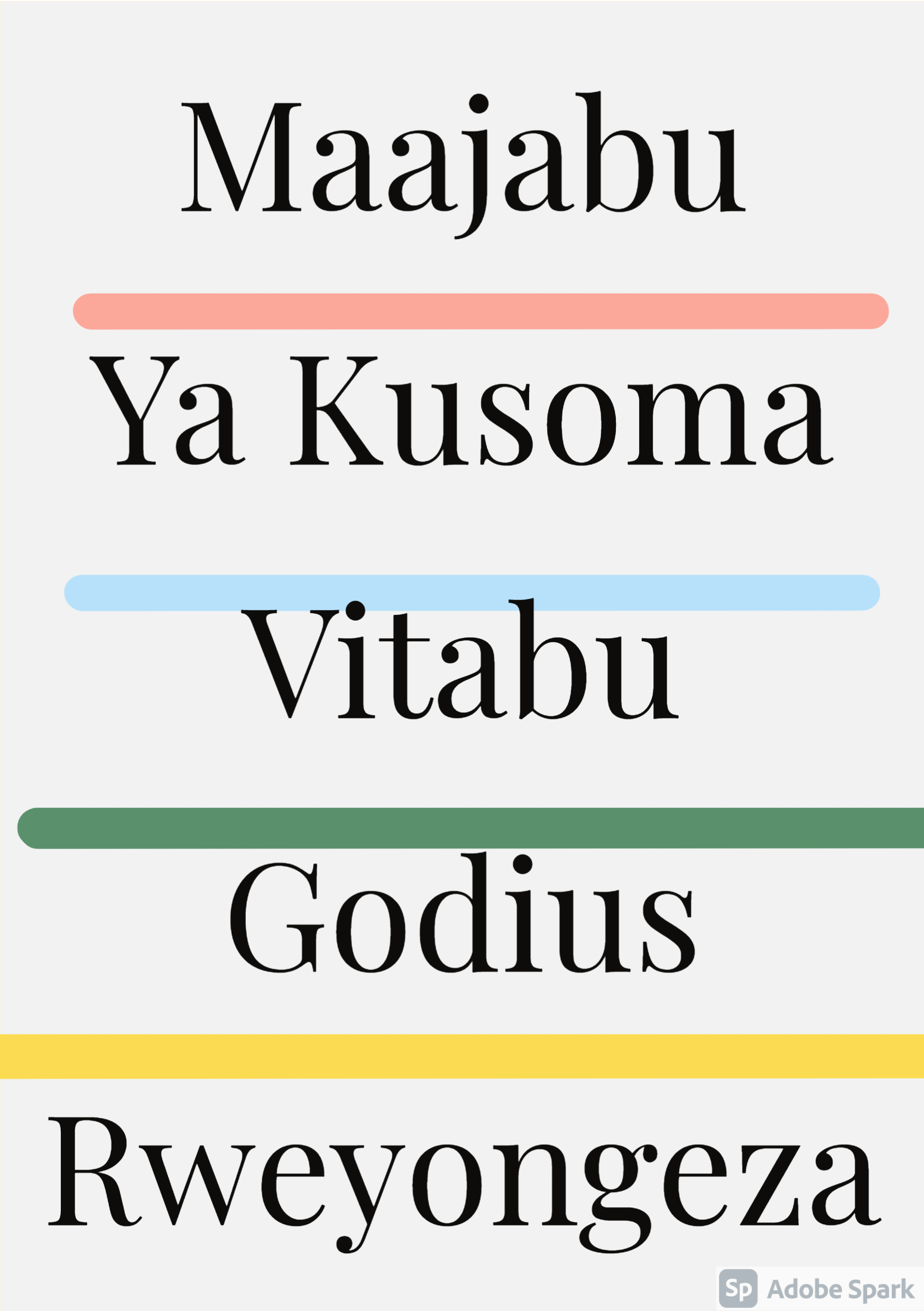 MAAJABU YA KUSOMA VITABU
Added to shop:
Aug 25, 2020
Mwezi wa tisa mwaka 2019 nilitoa kitabu MAAJABU YA VITABU bure kwa watu wote ili waweze kusoma na kujifunza maajabu yaliyofichwa kwenye kusoma vitabu. Mwanzoni sikutegemea kama kitabu hiki kingesomwa na watu wengi sana. Ila kilichotokea toleo la kwanza la kitabu hiki hapa lilisomwa na maelfu kwa maelfu ya watu. asilimia kubwa ya wasomaji wa toleo la kwanza wakawa wananitafuta na kueleza jinsi kitabu hiki kilivyobadili fikra zao kuhusu usomaji. Kwa hiyo, nikakuta kitabu hik kimeniunganisha na wahariri, wasomi, wakulima. Kitabu hiki kikaniunganisha mimi na watu wa nje ya nchi na wale wa ndani. Wengi wao tumejenga urafiki baada ya kuwa wamesoma hiki kitabu mpaka leo hii. Wapo waliosoma kitabu hki hapa wakasema kwamba mimi lazima nisome na vitabu vyako vingine. na kweli wakawa wamechukua hivyo vitabu a kuvisoma pia. Kila aliyesoma kitabu hiki alimtumia na mwenzake ili asome. Kitabu hiki kikawa kimezunguka kila kona ya nchi hii na dunia nzima kiujumla kwa wasomaji wa lugha ya Kiswahili. Hata hivyo kadiri muda ulivyokuwa unaenda nikaendelea kuboreshakitabu hiki hapa. na hivyo, leo hii napenda kukwambia kwamba lile toleo la kwanza la kitabu hiki hapa HALIPO TENA. Sasa tuna toleo la pili ambalo limeboreshwa mara 30 zaidi ya lile toleo la kwanza. Kama ulisoma toleo la kwanza ukasema, looo, hiki ni kitabu cha kipekee kweli. Sasa ukisoma toleo hili, hizo looo, zitakuwa mara 10 zaidi. hahah. Karibu ujipatie nakala sasa kwa kubonyeza https://www.getvalue.co/home/product_details/maajabu_ya_kusoma_vitabu
UTANGULIZI
Siku chache baada ya kuwa nimejiunga na chuo kila nilipokutana na mtu, nilihakikisha namwambia kuhusu umuhimu wa vitabu na kwa nini kila mtu anapaswa kusoma vitabu. Kipindi hicho ndio nilikuwa ninaendelea kusoma kitabu cha Think And Grow Rich huku nikiwa nimemaliza vingine vingi miongoni vikiwa ni vitabu vya Rich Dad Poor Dad na Cashflow Quadrant. Katika maongezi yangu sikusahau kutoa nukuu za akina Albert Einstein, Donald Trump, Robert Kiyosaki, Napoleon Hill na wengine wengi. Kila niliyeongea naye kuhusu usomaji wa vitabu, alionekana amependa na ataanza kusoma vitabu kuanzia siku hiyo.
Nakumbuka kuna watu nilikaa na kuwapa umuhimu wa kusoma vitabu na namna utakavyobadili maisha yao baadaye nikawauzia kitabu cha Biashara Ndani Ya Ajira ila hawakuwahi kukisoma. Kila aliyeshawishika kusoma vitabu nilikuwa namtumia vitabu vitatu ambavyo ni Think And Grow Rich, Rich Dad Poor Dad pamoja na The Richest Man In Babylon. Lakini tatizo lilibaki kwamba watu hawa walikuwa hawasomi hivi vitabu.
Kadiri muda ulivyoenda niligundua kwamba nilitumia muda mwingi sana kuwashawishi watu kusoma vitabu na kuwatumia vitabu ila walikuwa hawasomi. Nikaanza kujiuliza nifanyeje? Baada ya kuona juhudi zangu hazizai matunda ya maana nikaacha kutumia nguvu kubwa kuwashawishi watu kusoma vitabu.
Nikaamua kwamba kwa sababu mimi napenda mabadiliko basi nitakuwa mabadiliko ambayo nataka niyaone kwenye jamii na nitaonesha mfano kwenye kusoma vitabu na kufanya kwa vitendo yale niliyojifunza kenye vitabu ili nipate matokeo ya tofauti ambayo wengine hawapati. Na watu wakiniuliza nimewezaje, basi nitatumia nafasi hiyo kuwashawishi kusoma vitabu.
Ila niseme tu kwamba kila mara nilipopata nafasi ya kuwaambia watu kuhusu usomaji wa vitabu, basi sikuacha kufanya hivyo na nilikuwa nikiwasisitiza ni vitabu gani wanaweza kusoma. Nimepata wasaa huo tena kupitia kitabu hiki, ninaenda kukwambia kwa undani kuhusu usomaji wa vitabu na kwa nini unapaswa kuanza kusoma sasa hivi. Tofauti yako wewe na hao wengine ni kwamba kwenye kurasa za kitabu hiki hapa ninaenda kukupa dozi nzima juu ya usomaji wa vitabu. Ukiifanyia kazi dozi hii nina uhakika maisha yako yatabadilika na kuwa ya kipekee sana.
Baada ya muhula wa kwanza wa chuo kuisha, nakumbuka nilitengenza kundi la wasapu na kuliita AFRICA BOOKWORMS CLUB (ABC), kwa ajili ya watu waliokuwa wanapenda kusoma vitabu tu. Na kwenye hili kundi nililenga waingie wanachuo wengi kadiri iwezekanavyo, maana, niliamini wanachuo wakibadilika, basi jamii nzima itapata urahisi wa kubadilika. Na kweli waliingia wengi. Ndani ya masaa yasiyopungua matatu kundi lilikuwa na watu wasiopungua 130, ambao walikuwa wanasubiri wapewe utaratibu wa kusoma vitabu kwenye kundi hilo jipya. Niliweka lengo kubwa sana ambalo lilikuwa gumu kwa wengi. Lengo lilikuwa ni kusoma vitabu viwili kwa wiki. Na vitabu ningetuma mimi kwenye kundi ambapo kila mtu angesoma na kutuma kitu alichojifunza kwenye kitabu kila siku.
Kila siku asubuhi nilikuwa natuma makala ya kuhamasisha watu kuhusu kusoma na kuwataka wasome kitabu kilichotumwa kwenye kundi. Baadhi ya makala nilizotuma kwenye kundi hilo kwa wakati huo, utakutana nazo kwenye kitabu hiki ila zamu hii zimeboreshwa na kuongezwa nyama zaidi. Kitabu cha kwanza nilichotuma kwenye kundi kilikuwa ni kitabu cha Be Obssessed Or Be Average, mwandishi wake ni Grant Cardone. Kilichonishangaza ni kuwa watu waliojiunga kwa hiari wakijua kwamba watakuwa wanasoma vitabu hawakutaka kusoma. Mwanzoni wachache walisoma ila mwishoni nikabaki mimi na rafiki yangu Edius Katamugora. Baada ya kuona pia natumia nguvu kubwa sana huku niliamua kuachana na kitu hiki na kuliacha kundi. Watu waliondoka taratibu na baadaye nikwaondoa wengine waliobaki. Nikiangalia safari yote hii ya kutaka kuwashirikisha maarifa ya kusoma basi naona kuna kosa ambalo nilifanya ambalo laiti nigelifanyia kazi kundi hilo lingekuwepo mpaka leo hii. Pengine na wewe leo hii ungenitumia ujumbe ukinitaka nikuunge kwenye kundi hilo ili tuungane kusoma vitabu kama jumuiya ya watu wanaofikiri nje ya boksi. Ningewaondoa wale waliokuwa hawasomi na kubaki na wale wachache waliokuwa wanasoma na baadaye wale wachache wangesambaza ujumbe kwa marafiki zao wasomaji. Tukatengeza jumuiya ya wasomaji wa vitabu Afrika. Maana siku zote vitu vya aina moja huwa vinapenda kuwa pamoja. Hili ni kosa ambalo nilifanya kipindi hicho.
Lakini niseme tu kwamba lengo langu la kutaka kuwafikia wasomaji zaidi bado halijaisha. Maana kila mara ambapo nimekuwa nakutana na mtu na kitabu basi huyo nimekuwa nikipata nafasi ya kuongea naye na kutaka kujua zaidi kutoka kwake. Imani yangu na wewe utakuwa msomaji mzuri sana. Pengine wewe ndiwe unakuja kuwa mwanachama mpya wa AFRICA BOOKWORMS CLUB (ABC).
Karibu sasa uingie ndani kwenye kurasa za kitabu hiki ili upate kujifunza zaidi kuhusu kusoma vitabu. Fanyia kazi utakachojifunza ili uweze kupata matokeo maana kama ambavyo Albert Einstein anasema; hauwezi kupata matokeo ya tofauti kama utaendelea na fikra zile zile zilizokufanya upate matokeo ya sasa hivi. Njia ya kipekee sana kwenye kubadili fikra zako basi ni kusoma vitabu. Vitabu vina uwezo wa kubadili kilaza kuwa gwiji, vina uwezo wa kubadili mtumwa kuwa kiongozi. Vitabu vitabadili namna unavyoongea, tembea, kutenda na kuishi maisha yako kiujumla. Nakubaliana na Charlie "Tremendous" Jones aliyesema miaka mitano ijayo utakuwa jinsi ulivyo isipokuwa kwa vitu viwili tu, vitabu unavyosoma na watu ambao unakutana nao. Je, upo tayari?